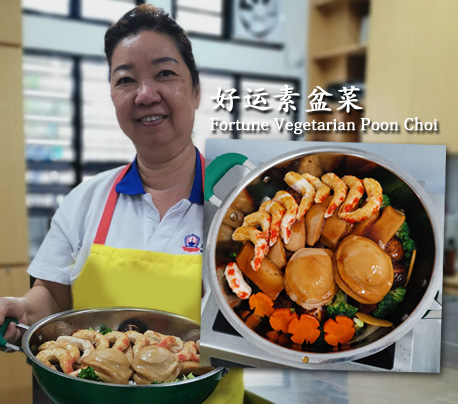 Lunar New Year is just around the corner, so it's the perfect time of the year for family reunions, gatherings, and spreading the joy of the festive season with loved ones. It's also the perfect time to participate in the auspicious dish- Poon Choi (or Pen Cai in Mandarin), a traditional Cantonese one-pot dish once common throughout Southern China. Its literal name translates to "basin cuisine" as ingredients are meticulously layered and served in a large wooden, porcelain or metal basin due to the communal style of consumption. Ingredients used for the dish are usually homonymous to auspicious words such as abalones, whose name "bao yu" sounds like "to carry surplus". With more than seven centuries of history, this traditional Chinese delicacy is perfect for Lunar New Year.
Ingredients:
2 whole vegetarian abalones
10 vegetarian shrimps
10 pcs mock duck meat
300g white radish (sliced into half inch thick)
500g Chinese cabbage (cut into bite-size pieces)
500g broccoli (cut into bite-size pieces)
500g fresh mushrooms
250g carrots (sliced)
20g ginger (sliced)
Seasoning:
2 tablespoons oil
2 tablespoons sugar
2 tablespoons of soy sauce
2 tablespoons of vegetarian oyster sauce
1 teaspoon of salt
A pinch of pepper
1 tablespoon of corn starch
200g water
Method:
Mix the seasonings into a pot and stir well.
In a separate pot, sauté the ginger slices till fragrant. Pour in the mixed seasoning and stir till the mixture thickens. Set the mixture aside.
In a heated pan, sauté the vegetarian abalone, shrimp and duck till slightly browned.
Blanch the vegetables for half a minute in hot boiling water till 70% done and set aside. Do not overcook them.
In a large claypot or bowl, arrange the vegetable slices in a single layer each. Top the upper layers with the mock meats.
Pour the prepared seasoning into the claypot/bowl and heat it one more time for the ingredients to absorb the sauce.
Serve hot and tuck in!
Catch the video here
Image High resolution photo created by rawpixel.com – www.freepik.com