Newsletter: Vol. 25 Issue 1 (January – February 2021)
Cabbage is among the auspicious food items served at Chinese New Year tables due to their homonym which represent a hundred types of prosperity luck. Coincidentally, the cabbage rolls also resemble stuffed packages that denotes abundant wealth. Prepared by students from Metta School's vocational F&B programme, this tasty dish served with a delicious egg white gravy are pretty, low-carb and a must-have to impress your family.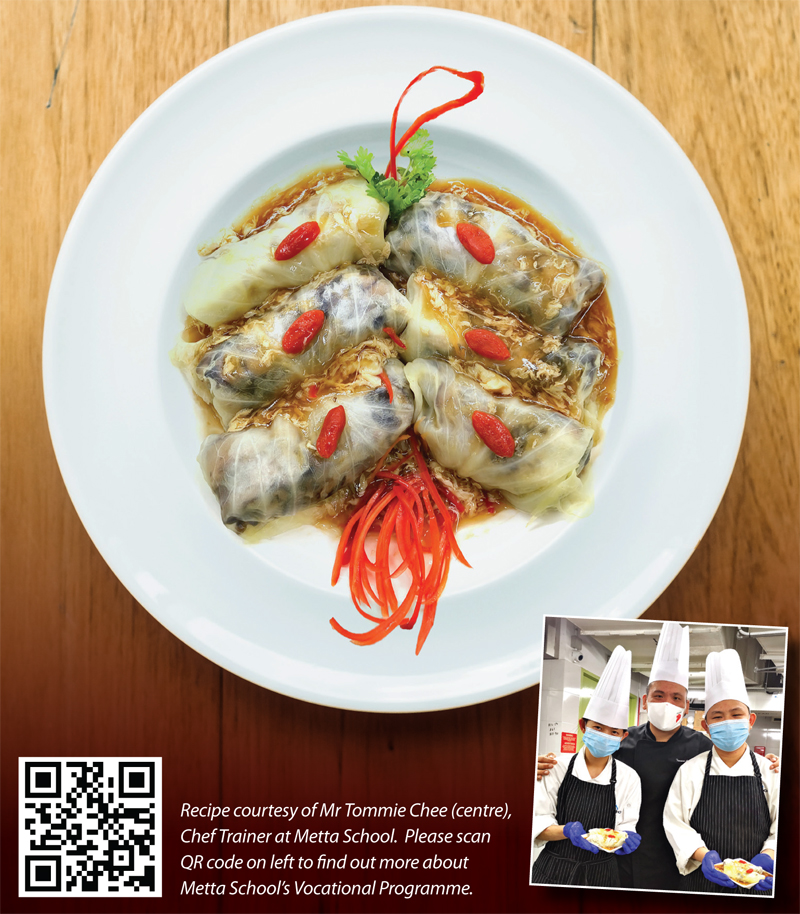 | | |
| --- | --- |
| Ingredients | |
| Local cabbage | 1 head |
| Dried Chinese mushrooms (soak to soften) | 8 |
| Fresh shitake mushrooms | 8 |
| Fresh button mushrooms | 6 |
| Vegetarian oyster sauce | 2 tablespoons |
| Black fungus | 20g |
| Chinese coriander | 20g |
| Wolfberries | Garnish |
| Salt and pepper | To taste |
| Egg White Sauce | |
| Egg | 2 |
| Potato flour | 1 tablespoon |
| Water | 500ml |
| Vegetarian seasoning powder | 1 teaspoon (to taste) |
| Dark soy sauce | 1 tablespoon |
Method Of Preparation
Remove the cabbage leaves and soak in hot water.
Julienne the mushrooms and black fungus. Chop the coriander.
Soak the dried wolfberries in warm water.
Heat up a pan over medium fire and sauté all the mushrooms with oyster sauce. Add in black fungus and season with salt and pepper. Turn off the fire once the mushrooms are softened.
Remove the cabbage leaves from hot water and wipe each leaf dry with a paper towel.
Two tablespoonsful of cooked mushroom filling onto a cabbage leaf and roll them up firmly like a spring roll.
Steam the cabbage rolls for 6 minutes. Be sure to remove any condensation that would condense into the plate.
Heat up water and add in the vegetarian seasoning powder together with soy sauce for colour. Once the gravy boils, thicken it with potato starch before adding in the beaten egg white to create egg ribbons.
Drizzle the gravy over the cabbage rolls and garnish each roll with wolfberries.
Ready to serve.
Image High resolution photo created by rawpixel.com – www.freepik.com