In a series of personal stories, we follow behind the scenes of our staff at Metta's various centres and read about how they cope during the current health crisis.
Training Officer, Jessica Boon, shares the joys and challenges she faces in her 15 years with Metta Day Activity Centre for the Intellectually Disabled (IDAC).
"Many of our clients who have been with Metta Day Activity Centre for the Intellectually Disabled have improved through the years with our guidance and programmes. Though they are intellectually challenged and their movements and abilities are restricted, I can see that they make an effort and do their best to complete a task given by us (training officers). They are full of spirit and a cheerful bunch who need care and love. As I am patient and caring, I choose to assist and train them in the best way so that they can integrate into society independently. "
With a job as a Training Officer also comes along with it its challenges.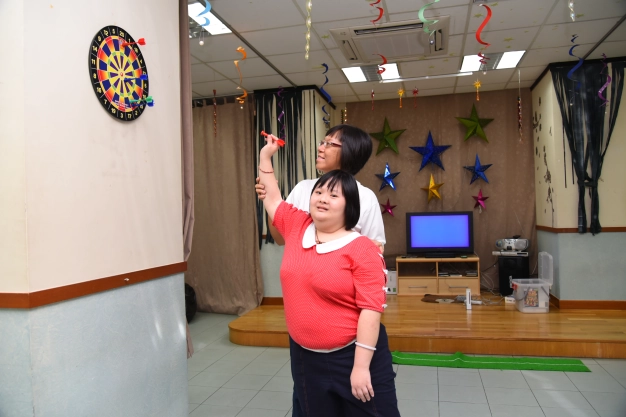 Adds Jessica, "As every client is different, they have their own mood swings in which they will throw tantrums at times and some will misbehave by not following the given instructions. Though it is challenging for me, I choose to use the soft approach by giving our clients one-to-one personal attention, to better understand their situation and provide the due care and assistance."
COVID-19 and IDAC
The challenges got more pronounced during the escalating COVID-19 pandemic. With stringent measures from the Centre to adopt safe distancing practices and improved hygiene habits, the staff at IDAC had to teach all clients and get them accustomed to the new changes. Some of the clients found it hard to adapt to the new added precautionary measures that differ from the norm of their everyday living during the pre-crisis days. The Training Officers remain increasingly vigilant especially when it comes to hygiene matters of the clients.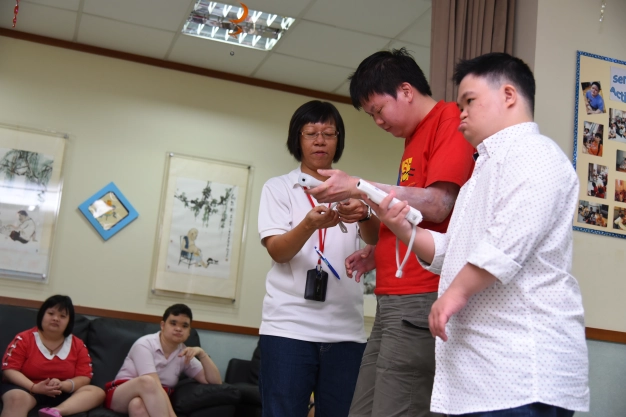 Since IDAC was shuttered following the circuit breaker period from 7 April, all clients remain at home with their families. The work for Jessica and her colleagues does not stop there. Calling up the caregivers of their clients twice a week, Jessica checks on them frequently to see how they are managing at home and suggests activities to keep them occupied during this period.
Never have such stringent lockdown measures on a national scale been experienced for many of us, many of whom have felt the impact to our daily living and lifestyle. While waiting for the health crisis to ride out over time, Jessica chooses to remain optimistic about it all. After all, adaptability is one factor that Jessica strongly believes to stay afloat in our ever-changing world when she says it best with,
"You have to adapt to changes under any circumstances and different environment. (sic)"

Image Holding heart photo created by rawpixel.com – www.freepik.com