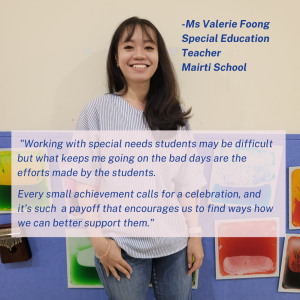 Mentoring my juniors at school led me to discover my interest in teaching. I wanted to be in a profession that impacts others. So, I was further convinced to go into teaching after working with persons with disabilities during my volunteer work at school.
I graduated with a Diploma in Special Education (DISE) in 2020 but I was posted to Metta School for my training since 2018 and had enjoyed the sense of accomplishment in seeing how my students improved overtime. Encouraged by this, I jumped at the chance to join Maitri School, which caters to students diagnosed with mild intellectual disabilities and moderate to severe autism.
Six years on, I still love it here. Every small progression observed in my students is fulfilling, as I know that I play a part in making their lives better.
Why my job is fulfilling
I believe that every student is unique, and the key to understand the students is to dive deeper into their needs and empathise on why they respond or react in a particular manner. It is my job to ensure interventions are customised to every student's learning needs. Students with sensory sensitivities may learn better with pictures to make the visual connection, while those with meltdowns or emotional triggers may benefit from a calm environment.
Since I started out in the special education sector, teaching has been an exciting journey for me. I see every challenge as a learning opportunity, where we keep learning, probing, and finding solutions to help each child maximise their learning outcomes. It is rewarding whenever I see my student learn another skill or become more confident about himself!
While setbacks may be inevitable, I always tell myself that I will learn to move on and be positive every day. I am also grateful to have good mentors and colleagues, who helped me ease into my job by making me feel welcome and providing guidance and support.
Challenges faced by a special education teacher
Admittedly, our first-hand learning journey started when I was assigned to a class, which is no easy feat! It is more challenging than expected, with the need to manage a variety of unique needs and distracting behaviours such as emotion triggers, short attention span, rigid routines as well as resistance to changes in classes.
I remember having a student with speech impairment. His behaviour is often misunderstood by his teachers and peers, which makes him feel inferior, coupled with his inability to express himself verbally. To overcome his struggle, we referred him to a speech therapist. He was constantly engaged in small conversations to improve social communication and his spoken language. Over time, he learned to speak more clearly and is more confident talking to his peers. It warmed my heart to see him assuming leadership in school eventually. The key takeaway is to observe and identify ways to find approaches to helping the child grow and maximise their potential.
Working with special needs students may be difficult but what keeps me going on the bad days are the efforts made by the students. Every small achievement calls for a celebration, and it's such a payoff that encourages us to find ways how we can better support them.