Newsletter: Vol. 25 Issue 2 (March – April 2021)
Article by Metta Volunteer Rochona Bose and edited by Jasmine Ong
Storytelling is one of the unique ways to engage young children and take them through a journey of interactive learning. With 9 February being one of the story-telling dates, students from Metta Preschool @Punggol enjoyed an online storytelling and craft session for their students with special needs where the virtual journey captivated the children in participation.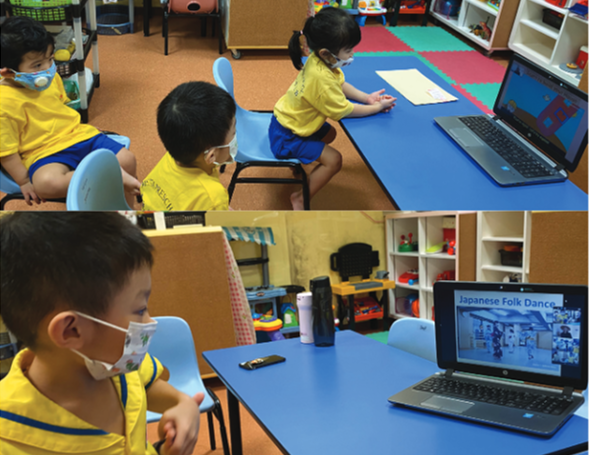 The Mobile Library, affectionately known as Molly, is a mobile library bus operated by the National Library Board (NLB). The library's storytelling and craft sessions is a service provided free by NLB, which partnered with Metta Preschool @Punggol for the one-hour session over Zoom as part of the preschool's continuous learning journey. There were a total of 5 sessions over three weeks for the different classes.
Despite not having the physical face to face interaction, however, emotions, warmth and the connection between the NLB staff and the children remains the same through engaging and participative storytelling and the students.
The children enjoyed listening to the story of "The Ungrateful Tiger" and "Kaza Jizo" as they were involved in the use of various props along with music, sounds and dramatic storytelling techniques by the Molly library. As excited as they are, the children were swinging, dancing and interacting in all ways possible while participating in the session, facilitated by their class teachers. The smile on their faces and their eyes' brightness spoke volumes of how much they had relished the experience.
Apart from storytelling, the children also got involved in origami by learning to create hats out of coloured papers. Their virtual story-teller from NLB guided them in decorating hats by drawing, colouring, glueing pictures and pasting stickers. The children were at their creative best while decorating the hats and were equally excited to put them on upon completion.
At the end of the day, the children were filled with happiness, cheer and confidence when they brought home their origami hat. We are grateful for partnership opportunities such as Molly Library, where our children learn in various environments.