Newsletter: Vol. 25 Issue 1 (January – February 2021)
On 18th Jan 2021, we kicked off our first virtual event of the year – the Colours of Life art exhibition at JetQuay, a collaboration with CAG and Jet Quay. The art exhibition featured beautiful batik paintings done by our Metta School Alumni with a recurring theme of butterflies and sunflowers, embodiments of hope – an apt theme for the challenging year that all of us faced. Every single masterpiece came accompanied with an artist's excerpt, an exclusive peek into the artistic minds of our Metta School Alumni, displaying their hopes and interpretations of their journey and feelings. The general public were encouraged to pick the artistic minds of our artists and through this, we wanted to showcase their talent and affinity with batik painting.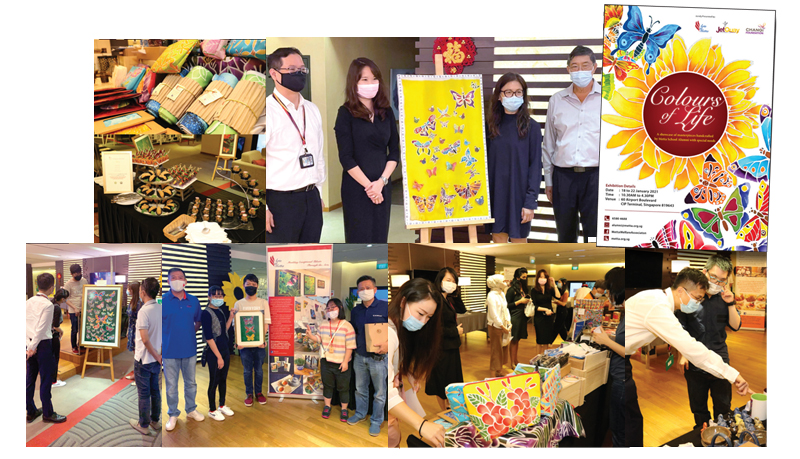 A booth was also set up, presenting Metta Café's sweet treats, cookies and pastries, and our Arts@Metta's art pieces, consisting of pottery figurines, mugs, coasters and more. Several CAG staff came to show their support and ended up purchasing tubs of cookies that they couldn't resist and trinkets that caught their fancy.
Mr Albert Lim, the senior Vice President from Changi Airport Group (CAG), Miss Samantha Lim, the General Manager from JetQuay and Mr Ee Tiang Hwee, the honourary secretary of Metta Welfare Association were invited to be the guests-of-honour. They participated in a communal activity where they were invited to unleash their artistic creativity and paint on butterfly pottery pieces. These were then stuck onto an artwork, alongside our Metta Alumni artists' painted pottery butterflies, creating a masterpiece that was the result of the shared efforts of everyone. That was a moving display of unity and a beautiful show of support for all that we do at Metta Welfare Association for our beneficiaries. This was all documented in our Facebook Live, where we thought we'd bring the event virtually to our supporters, donors and followers on Facebook.