24-year-old Mohamad Fadhil Bin Jalil is a shy and quiet young adult at first glance. But unbeknownst to anyone, the young man is a diamond in the rough with his creative and artistic expressions when a brush, palette and canvas are in his hands.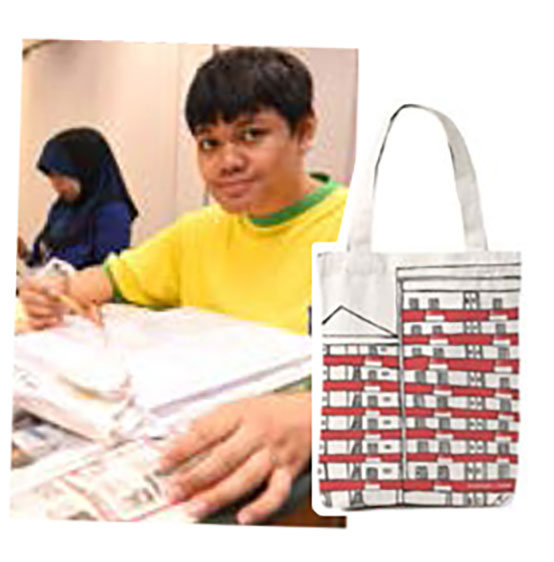 MyHome, Fadhill Funds raised from this campaign will go towards supporting our artists with special needs from Arts@Metta.
Fadhil has autism and consequently has mild difficulties with speech and interaction. Having joined Arts@Metta with Metta Alumni 8 years ago, Fadhil has grown more calm and is able to sit through a long session of batik painting, a task that he is very passionate about. Through Arts@Metta, Fadhil is able to explore his potential by undertaking more complex artwork and he is also guided on life skills that would further train him to be more independent. The many years of honing his skills has made Fadhil better with his painting proficiency, so much so that he is able to coach others during the batik painting CSR workshop. This in turn gave Fadhil more confidence in communicating and expressing himself better.
Putting his heart and soul into his craft, it came as a wonderful surprise to everyone when Fadhil's artwork, "My Home" was one of the selected pieces that will be featured on the NDP2020 Singapore Together Pack. In this artwork, Fadhil draws the residential landscape of HDB dwellers, with each flat unit adorned with the national flag on the facade. He drew his inspiration for his artwork by observing the HDB flats across from where he lived. Despite not knowing his neighbours very much, he sees them pretty often and hopes to be able to befriend them and discover what unique stories each of them has to share.
In collaboration with SG Enable, Singapore Together Packs feature 10 designs by aspiring artists with disabilities from seven organisations. Fadhil was extremely excited when he finally got to meet and present his artwork to President Halimah Yacob in person during the engagement at Enabling Village on 18 July.
Not letting autism define him, Fadhil has dreams and aspirations of becoming a doctor some day so that he may contribute back to our society. With his caring and warm-hearted personality, Fadhil endears himself to those he interacts with.
Metta Online Store
We have a growing range of curated products by our resident artists – support our artists by visiting Metta's online shop.