For the last 5 years, Mr Ng Chin Meng struggled with getting around his house and performing basic activities such as showering, all by himself. The retiree is an amputee as a result of diabetes mellitus that afflicted him in 2017. The ailment caused Mr Ng to undergo an amputation to his right leg just below the knee due to an infection on his foot.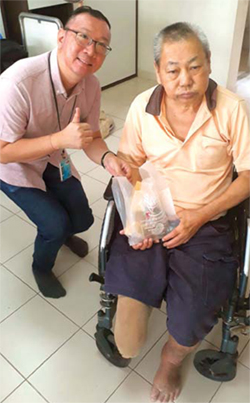 Life was never so grim for 63-year-old Mr Ng who had to stop work in 2013 due to prevailing angina and other health conditions. Mr Ng was a compassionate supervisor to his staff at the now-defunct Yaohan Department Store. Although many of his staff have parted ways since the department store shuttered in the late 90s, many still remember Mr Ng fondly and kept in contact with him to date. Over the next 15 years, Mr Ng took on odd jobs from being a cab driver to a hawker stall assistant. Being a divorcee and living all alone in a rented one-room flat, Mr Ng did not watch his dietary lifestyle due to his long and hectic work schedule that ultimately caused him to develop diabetes over the next few years.
Mr Ng is thankful for a helpful neighbour, staff volunteers from Lion Befrienders, and Metta HomeCare's staff nurse, Ricky, who visits Mr Ng often and help him with his medical and social needs. Going beyond the line of duty as a staff nurse, Ricky, acts as a listening ear and offers social and emotional support to Mr Ng during his visitations, which the latter is extremely appreciative of. A client of Metta HomeCare, Mr Ng receives medical care such as managing his chronic illness through weekly medication and health monitoring assistance. Like a close friend, Mr Ng would often comment "Ricky is a very patient and caring staff nurse." Ricky have grown beyond the role of a medical staff to a good friend to clients like Mr Ng.