Newsletter: Vol. 25 Issue 2 (March – April 2021)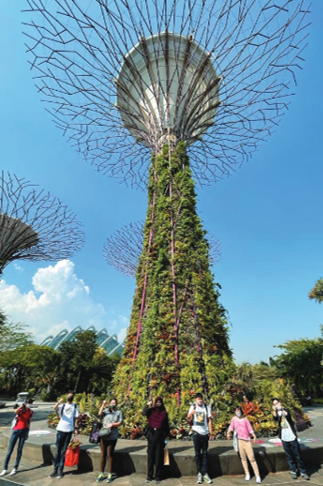 Seah Chee Meng stood intently in front of the rows of magnificent cactuses as he observed their trichomes and glochids running all over the cactus' spine and cladodes. With a sketchbook and a pencil in hand, he began tracing their form and note their every intricate detail, taking in their beauty down in his notes. Like his fellow artists, Arts@Metta's artists spent a fulfilling day trip at the Flower Dome and Cloud Forest in Gardens by the Bay, observing nature up close, which gave them the creativity and inspiration for their batik painting designs.
The purpose of the outing was to allow our artists to sight the perennial blossoms in their natural state. As part of Arts@Metta's plans to incorporate new concepts and ideas into our batik painting artworks, the artists also visited iconic Singaporean landmarks such as the Merlion, the Singapore Flyer and Marina Bay Sands. Our artists have been exposed and trained to produce artworks of native flowers like the iconic Vanda Miss Joaquim orchid through the years. This was the first time our artists went on a still art sketching activity.
They saw for their own eyes the actual buildings and landscape views, as well as the real-life flowers and plants. They learnt the importance of preserving old buildings, the story behind these landmarks and were given more headspace to share new ideas.
Among the most memorable experience would be the artists meeting one another after so long since work from home measures were put in place in 2020. Brenda, one of our artists who could not make it for the outing, joined us through video conferencing on the excursion day. We may be physically apart from Brenda, but our hearts are close to each other.